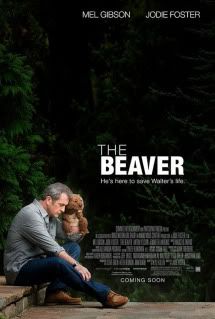 This is when he meets The Beaver. A hand puppet seemingly with a mind of its own, it convinces Walter to let him do all the talking and take control. Soon Walter is back being a husband, happy once again being a father and energized to return to the head of the company he so long has taken for granted. But what at first appears to be some form of mental health therapy quickly spirals in directions too extreme for everyone to comprehend, and what started as a way for the executive and family man to deal with his depression is quickly transforming into something bizarre and dangerously uncontrollable.
Jodie Foster's (Little Man Tate, Home for the Holidays) third directorial effort The Beaver is an odd, touching and refreshingly sad slice of life drama with comedic undertones that will catch most viewers unprepared. Never quite what you think it is going to be, surprisingly violent both physically and emotionally, this is as lovingly off-center a motion picture as any released so far this year, the whole thing anchored by a central performance by Gibson that's up there with his very best.
There are actually two parallel stories going on inside of writer Kyle Killen's intricately layered script. On one hand you have Walter and his journey with his hand puppet The Beaver, one allowing themselves to be consumed by the other the repercussions of which are felt by everyone close to the situation. The other follows Porter and his relationship with his High School's valedictorian Norah (Jennifer Lawrence), his uncanny ability for verbal mimicry allowing him insights into her fractured family situation that have the unintended side effect of granting him a fresh look at his own.
These two narratives run through, around and alongside one another, both doing a delicate dance allowing each to breathe and evolve in their own way and at their own pace. Foster tangos everything together with confidence and authority, the whole movie leading up to a quietly climactic coda that's refreshing in its intimate emotional authenticity.
At the same time, Killen's script doesn't give the majority of the supporting players a whole lot to do, Meredith given particularly short shrift leaving Foster with very little to work or play with. Her travails and the reactions she has to them don't always resonate as deeply or as strongly as they should, and there were moments where the sheer incredulity of the situations and her reactions to them weren't believable.
There is also the whimsically surreal subplot of Walter's return to work, and while there are certainly some great laughs to be found during this sequence this is also where the movie has the most trouble maintaining its innate sense of realism. You get the feeling that Killen is attempting to comment on media, corporate culture and other facets of American consumerism but isn't connecting the dots as succinctly as I wished he would, some of these portions eye-rolling and silly.
But the movie ends spectacularly, and is filled with wonderfully nuanced and three-dimensional performances from Gibson, Yelchin and Lawrence that are undeniably fantastic. These three are as dialed in as it gets, managing an intimate connection to the material and its intricacies that held me happily spellbound. As dark as things ultimately became there was truth to their words and actions I could grasp hold of and treasure, and even with the occasional speed bump and misstep they manage to keep things running along relatively smoothly.
The way The Beaver shifts in tone reminds me of some of director Jonathan Demme's early works like Something Wild or Melvin and Howard, while the unabashed cynical whimsy of other portions echo Coen classics like Raising Arizona. Foster continues to separate herself from the pack as a director worthy of taking special note of, and as much as I adore her as an actress I for one can't help but wish she'd spend maybe more time behind the camera than she does in front of it.
Link Here ........
Download