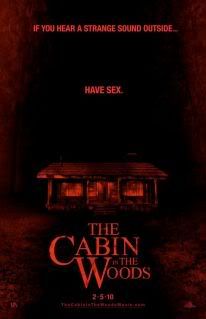 The Cabin in the Woods hasn't had the easiest road to theaters. The horror/comedy, written by Joss Whedon (Serenity, the upcoming The Avengers) and directed by Drew Goddard (screenwriter of Cloverfield), finished shooting back in 2009 and was scheduled for a Feb. 5, 2010, release. Studio MGM decided to delay the release until January 2011 and convert the movie to 3-D, but the studio's financial woes eventually pushed Cabin's release date into the abyss.
Last month, reports had MGM selling the movie — which had resorted to parodying its troubles in poster-form — and Deadline reports that Lionsgate is making a deal to distribute the movie, with October a possible target for release, though nothing is set yet.
Cabin in the Woods follows two white-collar workers (Let Me In's Richard Jenkins and West Wing's Bradley Whitford) who have a mysterious connection to a cabin that houses a group of teenagers for a weekend. Chris Hemsworth stars in the movie and might be coming off of a huge success with Thor this summer.
With Cabin finally nearing release, the only other collateral damage from MGM's debt crisis is the remake of Red Dawn, which also stars Hemsworth, along with Josh Hutcherson (who was just cast in The Hunger Games) and Adrienne Palicki (who's playing Wonder Woman in an upcoming TV show).
Link Here ..........
Download