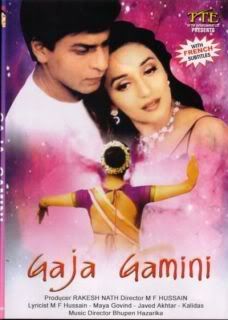 Painter M.F. Hussain´s Gaja Gamini is not a film for everyone. The few who see the film will hate it, and even fewer will understand it. Many critics have deemed this film as "a waste of precious celluloid". I challange these so-called critics and vierwers to find one film that has been as finely executed as Gaja Gamini. Though confusing at times, the film has a deep central message, with good music and fantastic visuals. Every scene is well planned and executed by first-time director M.F. Hussain. In today´s times, a film like Gaja Gamini is very rare. With hardly any mass appeal, besides a stunning Madhuri Dixit and a guest appearance by Shah Rukh Khan (Who appears in a confusing portion of the film as himself), this film spelled instant doom at the box office. Even in limited release, the film has barely managed decent opening day collections. With these facts in mind, I approached the newly released DVD (an excellent one by Yash Raj Home Entertainment) with caution and extremely low expectations.
I was pleasantly surprised by a film that doesn´t always make sense, but portrays a novel idea in a time when brainless action films or cliched romances plague the industry.
Made in a mold very similar to that of V. Shantaram´s films (Jhanak Jhanak Payal Baaje, Jal Bin Machchli Mrityu Bin Bijli), Gaja Gamini is a timeless film that explores the woman. The central figure of the film is represented by a mysterious figure called "Gaja Gamini" (Madhuri Dixit), who inspires, arouses, and confuses the common man. "Gaja Gamini" is the inspiration behind Leonardo Da Vinci´s (Naseerruddin Shah) ´Mona Lisa´, Kalidas´ poem "Shakuntala", and photojournalist Shah Rukh´s (As himself) photographs. The myseterious "Gaja Gamini" appears as four characters, one of them being Sangeeta, a blind girl from Banaras at the beginning of time, who inspires village women (Farida Jalal, Shilpa Shirodkar, and Shabana Aazmi) to revolt against a male-dominated system and carve a niche for women forever. Another character is Shakuntala, who is the subject of Kalidas´ poem of the same name. Shakuntala incites jealousy in the women and love in the men around her, charming humans and animals alike in the forests of Kerela. "Gaja Gamini" is also Mona Lisa during the Rennaissance, the object of painter Leonardo Da Vinci´s obsession. Finally, Monika, the most confusing sector of the film, is supposed to represent the woman of the New Millenium. Kamdev, the God of Love (Inder Kumar, in a fine breakthrough performance as a hero), walks the earth throughout history, attempting to win the love of "Gaja Gamini", with whom he is in love.
Thrown in to this mix is a large black wall, separating two different time periods, and confrontations between Science (Ashish Vidyarthi) and Art (Mohan Aghashe) at different points in history, showing that the world itself can change, but it´s original ideas will always be permanent. For example, a play by Shakespeare can be written in the 15th Century and performed by actors of that time. The same play will still be performed in the 21st Century, but with different actors. The confrontations between Art and Science also bring about the idea that while Science is firmly set on believing that which can only be proved, the basis for Art is that which can be proved, and an intuitive sense that can be felt. Science uses the brain, while Art uses the brain and the heart. Another interesting facet of the film is a ghatri, a small bundle which a woman carries upon her head, like a burden, with which she must walk forever.
Working Link ..........
Gaja Gamini