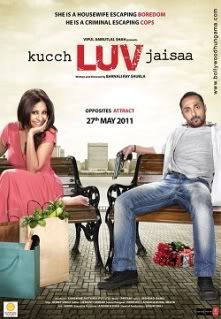 KUCCH LUV JAISAA takes you back to 2002's MR. AND MRS. IYER. That film saw Rahul Bose share a unique bond with Konkona Sen Sharma. Now, he shares a similar bond with Shefali Shah. Speaking about Shefali Shah, it's her first film as a lead actress. Her unexpected pairing with Rahul Bose ups the curiosity quotient about the film.
Madhu Saxena (Shefali Shah), a housewife with two kids isn't really content with the way her life is moving. 'Koi meri sunta hi nahin,' she rumbles annoyingly. On her birthday, her husband (Sumeet Raghavan) leaves for office without wishing her. The doorbell rings after sometime. She excitedly opens the door thinking it might be a surprise gift sent by her husband, but only finds the garbage collector. Madhu is in complete despair. To cheer up, she decides to celebrate her special day all by herself. She buys new clothes, gets a makeover done and even buys a brand new car. Enjoying her celebrations, she goes to a restaurant, where she comes across Raghav (Rahul Bose), a criminal on the run. She thinks he's a detective and wants to spend the rest of the day with him. The opportunist Raghav pretends to be a detective so that he can escape from the police.
Director Barnali Ray Shukla starts the film pretty impressively with a song that shows the dwindling chemistry of the married couple, over the years. She doesn't take much time to establish the plot, in which two strangers meet. Madhu and Raghav's contrasting personalities and the way they encounter situations make for an interesting first half. However, the second half becomes hackneyed and is devoid of engaging moments. The narrative drags and it takes forever for the end credits to roll. The convenient climax is incredulous. Unlike MR. AND MRS. IYER, you don't feel much for the couple here.
The scene in which Madhu discusses the birds and bees with her daughter is very tackily done. Bobby Singh's cinematography is decent. Pritam's music is good. Hemanti Sarkar's editing could have been better.
Shefali Shah delivers a confident performance. You do feel for the predicament of her character. Rahul Bose is decent, but he does have trouble mouthing the tapori hindi dialogues. Sumeet Raghavan is wasted. Neetu Chandra acts poorly.
With an interesting premise, KUCCH LUV JAISAA had the potential to be a great film. Nevertheless, it's a decent watch, 'kucch' hadd tak.
Link Here ........
Download