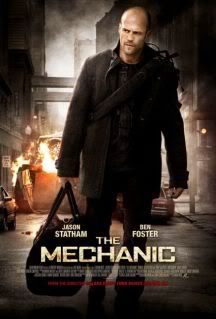 Simon West's remake of the 1972 Charles Bronson feature The Mechanic begs to be compared to the original. Not because one is that much better than the other (though the Bronson original is more desirable), but because it's a perfect snapshot of how films are made now compared to how they were made then. Without even seeing the original I would assume many filmgoers could predict the differences, most of them having to do with subtlety and a lack of franchise intentions. And it's never more obvious than from the two scenes that bookend this film.
Jason Statham stars as hitman for hire Arthur Bishop, and our introduction to him comes at the demise of a leader of a Columbian drug cartel. However, the clandestine way in which Bishop takes out his target is not only preposterously stupid, it's altogether dull. (Someone please tell me how he got out of the pool without being seen.) No amount of feigned, over-the-shoulder glances from Statham or perceived death-defying acts can spice up this prologue to anything more than a mere acceptance of who we're supposed to take Bishop to be.
From here we're invited into Bishop's lifestyle, a secluded and seemingly lonely existence made-up of classical music played on vinyl and a nightly sampling of the world of sexual profligacy. Yup, he's the sophisticated assassin but even the sophisticated need companionship every once in a while, and a sex montage is always good for filling space between gun fights and hand-to-hand combat. And you can rest assured Statham plays it just as he has every other one of his characters from Crank to The Transporter, straight-faced and all about business.
Bishop's business-like demeanor is thrown for a loop, though, when he's asked to take out someone close to him, a decision that results in a reunion with his target's wayward son, Steve McKenna (Ben Foster). Bishop and Steve soon take on a teacher-student relationship as Steve has some aggression he needs to get out and Bishop's conscience is telling him he has a responsibility to the young man. From here on out sex montages turn into bullet montages as Bishop trains Steve in what it means to get in, take out your target and leave the scene as if you were never there. Too bad in The Mechanic things rarely work out as planned.
Compared to the Bronson original, this 2011 remake is everything we've come to expect when near 40-year-old films are revisited for audiences of today. Nothing can be done with any measure of patience. Action scenes have "rounds fired" minimums, bones must break and something must explode so the hero can walk away from it without looking back. Action films of this sort are a dime a dozen nowadays and it gets old unless something particularly interesting is thrown into the mix.
In The Mechanic the ace up the sleeve is Ben Foster. While I actually like Ben Foster in this role, something of a mad man with nothing to live for, his character doesn't differentiate himself enough from Statham's portrayal of Bishop to make it all that interesting. Neither characters are very loquacious, neither has much of a personality to speak of and once he's been trained, Steve isn't much different than Bishop outside of his lack of experience. Add to that the fact Statham isn't giving us a performance such as what he brought to The Italian Job or Snatch. Instead it's just the same old meat head you'll find in his Transporter franchise, Death Race or The Expendables. He's turned into an actor who's only good for bashing heads and in this case it's disappointing since we know he has at least a little more to offer.
The majority of Statham's films are mindless actioners, built for fun and not meant to be scrutinized too closely. However, they've reached a point where they are all a bit stale and The Mechanic is no exception. It's the action equivalent to a Platinum Dunes horror remake where the imagination is limited to trying to figure out ways of making a big mess of things rather than developing interesting characters and working on intriguing plotlines.
The stunts aren't impressive, much of the blood splatter is painfully obvious CG and while Simon West does his best to load this thing with hero shots I'd much rather be watching Con Air, the only fun film he's ever made.
Link Here .........
Download