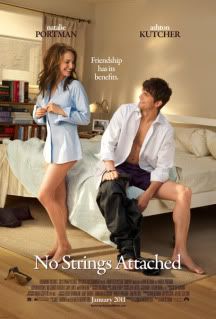 The movie No Strings Attached is your basic, average, run-of-the-mill rom-com. January is often a dumping ground for movies they don't really know what else to do with. As such, the months of January and September, in terms of movie releasing, are a lot like the Island of Misfit Toys. No Strings Attached is completely predictable and contains no real surprises. Now let me be clear, that does not necessarily make the movie bad. Plenty of movies follow a specific formula and can still be plenty enjoyable. For all intents and purposes, No Strings Attached is Romantic Comedy 101. And it's not totally bad, but it doesn't manage to utilize its merit and formula conventions in the most effective way to become something better.
For Kutcher, the story is quite similar to a truly bad and forgettable rom-com he did in 2005 with Amanda Peet called A Lot Like Love. They begin in similar fashion, two random people or acquaintances who have a sexual relationship and are friends but not truly lovers -- even though they are obviously meant to be with each other. At least No Strings Attached manages to be a better somewhat funnier movie; and of course, Natalie Portman is ridiculously adorable and a much more appealing female lead for this type of material than Peet. No offense to Mrs. Benioff.
Adam (Kutcher) and Emma (Portman) are not truly friends. They had a friendly but awkward moment as teens at summer camp and encounter each other again in college. Emma ends up becoming a doctor in Los Angeles, while Adam works as an assistant for a High School Musical type of TV show. Adam gets a rude awakening when he learns his aging father who was the star of a past popular TV show, Alvin (Kline), has now started a relationship with Adam's ex-girlfriend, Vanessa (Lovibond). Adam goes on a drunked bender and tries to call up every woman on his phone in order to get them to sleep with him so he can try and forget about his dad's affair with his ex. In the morning, Adam awakes with a wicked hangover, naked on Emma's couch. Sooner rather than later, Emma and Adam end up charming each other into bed. Emma is a commitment-phobe and is afraid of relationships so she offers Adam a deal. Emma and Adam will become sex-friends and will use each other for sex whenever they want. So if they start to want more out of the deal, they stop and I guess if either of them finds someone else they would stop.
Generally, the problem with the story is that it is difficult to invest in Emma's and Adam's relationship, because they weren't actually friends. They barely even knew each other before the start of their sex fling. The missing element of the story is a close friendship between Adam and Emma who start to have a "friends with benefits" type of relationship. For the most part, the story of Adam and Emma contains only a "with benefits" relationship.
Another problem with the movie is Kutcher. Kutcher just does not have the right attitude or demeanor and does not push the proper energy required for a role like Adam. It is difficult to root for Kutcher as Adam. Kutcher does not bring the integrity and honesty to the role of what should be a likeable leading man. The energies just don't quite match.
The movie does feature an eclectic supporting cast who is well presented and do the required job well. This includes Greta Gerwig and The Office's Mindy Kaling as Emma's colleagues, friends, and roommates Patrice and Shira. In the roles of Adam's friends, Eli and Wallace, are Jake Johnson and the rapper Ludacris respectively. Ludacris is an interesting choice here, but at least he manages to leave a better impression then he did where he was badly miscast in Max Payne. I honestly wanted to see Olivia Thirlby and Lake Bell a lot more.
Director Reitman, who was previously responsible for such classics as Meatballs, Stripes, and the Ghostbusters movies does serviceable work here. The movie does shine some in the execution and staging of the sex scenes. The movie gets away with a little more than you typically see in PG-13 flicks despite the lack of actual nudity. Reitman does a good job of using the R-rating in not going ridiculously overboard and all-out raunchy and disgusting for cheap jokes and thrills.
Directed By: Ivan Reitman
Written By: Elizabeth Meriwether
Runtime: 110 minutes
MPAA Rating: Rated R for sexual content, language and some drug material.
Emma - Natalie Portman
Adam - Ashton Kutcher
Alvin - Kevin Kline
Patrice - Greta Gerwig
Katie - Olivia Thirlby
Eli - Jake Johnson
Wallace - Ludacris
Shira - Mindy Kaling
Vanessa - Olivia Lovibond
Lucy - Lake Bell
Dr. Metzner - Cary Elwes
Link Here ..........
Download