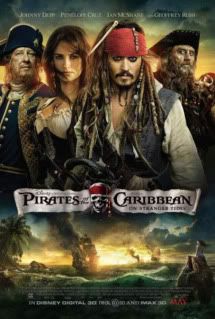 One voyage, thousands on board and yet another drifting ship beyond the horizons of a safe harbour, and this time the journey is taken to find the youth fountain- a nectar which bestows immortality. Pirates of the Caribbean-on stranger tides is fourth in line in the Pirate series and is a treat for those who loved the last three expeditions by Capt. Jack Sparrow and his foil Capt. Barbossa.
This supernatural journey triggers from where it left off in its third expedition. Capt. Jack Sparrow (Johnny Depp) crosses paths with his ex- Angelica (Penelope Cruz) who forces him to join his father's ship- The Queen Anne's Revenge, the ship of the formidable pirate Blackbeard (Ian McShane) in search of the youth fountain- nectar to immortality. Baffled by the thought whether he is in love or not with his ruthless ex, Jack Sparrow find himself on an adventure trip. On the other hand, his thwart Capt. Barbossa (Geoffrey Rush) is too on a similar roller-coaster ride with Sparrow's longtime comrade Gibbs (Kevin McNally). They both cross paths, befriend with each other and struggle to be the first to reach the youth of mountain.
The plot has a discrete similarity to the Sagar Manthan (ocean of milk) episode in Hindu mythology- The churning of the ocean of milk by Asuras (Demons) and Devas (Angels) for the nectar of immortality, Amrit. The only difference here is that everyone is an Asur (Demon).
The movie starts off well but after a point it drags to mindless escapades. The sole factor that keeps the interest going is Capt. Jack Sparrow's corny expressions, his sassy attitude and hilarious mind-games. To everyone's surprise, this time, Sparrow believes in word play more than swordplay. Bravo! Johnny Depp each time you essay Jack Sparrow you add different dimension to this character like, if he has an impish attitude, you would not take him as a frivolous jerk. If he's incapable of emotions, you would still find him with a genuine heart. That's the amount credibility you bring to this character.
If you are expecting some hot, sweltering chemistry between Depp and Cruz then I think you don't know Jack Sparrow too well! As like I have said, the film is a delight for those who follow the series, otherwise, it's yet another expedition that promises heaps of laughter from Jack Sparrow. Also a suggestion- Save your money by opting for 2D version instead of 3D. The movie is not worth in 3D.
Link Here ........
Download