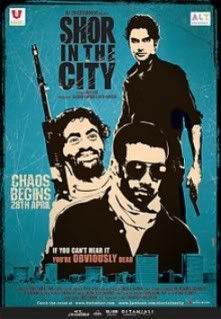 Before SHOR IN THE CITY, Raj and DK made a short film titled SHOR. This was even before they made 99. The great response that the short film received inspired the directors to make SHOR IN THE CITY. It seems that they ran out of ideas as they tried to expand the short film into a feature film.
The film traces three separate stories during the 11-day-long Ganesha Chaturthi festival in Mumbai. Some of them are vaguely connected. Abhay (Sendhil Ramamurthy) has returned to India to start some business, which have no idea of about till the very end. He is infatuated by model Sharmili (Preeti Desai), whom he meets at night club. Sparks fly and the two start seeing each other. But all's not hunk-dory in his life as he's being harassed by two goons who blackmail him for a huge ransom.
Bootlegger Tilak (Tusshar Kapoor) is hand in glove with petite criminals Ramesh (Nikhil Dwivedi) and Mandook (Pritobash). They steal a bag in a local train, which contains guns and some bombs. Now, they want to sell them for a good amount.
Sawan (Sundeep Kishan) is an aspiring cricketer with a complicated love life. He wants to get into the Mumbai under-22 team and doesn't even mind paying money for it. His girlfriend Sejal (Radhika Apte) is troubled because her parents want her to get married as soon as possible. Every week she has to sit in front of a new prospective groom.
Raj and DK take forever to establish the different characters and their respective stories. And that seems to be the only thing they do in the film. The narrative shifts from one story to the other, but the plot remains more or less stagnant. Random instances in the characters' lives are just clubbed together. It's only in the chaotic climax that something significant actually happens.
You mainly overlook the flaws till the first half as it has some uproarious moments, especially involving Mandook. Also, each story has poignant moments which keep you interested. The bomb scene involving Tilak, Ramesh and Mandook is hilarious to begin with, but gets to a grim conclusion. In the second half, the banal proceedings don't help. The change in Tilak's character post an incident is absurd. And the climax, though not bad, is too convenient to digest. Out of all the three stories, Abhay's track is the weakest.
SHOR IN THE CITY doesn't show a side of Mumbai which we aren't aware of. Mumbai fails to be a character in the film which Kiran Rao successfully managed to do in DHOBI GHAT.
Tushar Kanti Ray's cinematography is good. Ashmith Kunder's editing is haphazard. Sachin-Jigar's music is impressive with Saibo being the best track.
Tusshar Kapoor is just about okay. Nikhik Dwivedi is fine. Pritobash steals the show, and how! He plays his character with aplomb. You can't help but smile each time he appears on screen. Sundeep Kishan makes an impressive Bollywood debut. Preeti Desai looks charming but doesn't have much scope. Her character disappears just before the interval to never return. Sendhil Ramamurthy has the same annoyed expression throughout the film. Radhika Apte (RAKHT CHARITRA) performs well. Girija Oak (TAARE ZAMEEN PAR) acts well in her small role.
Link Here ........
Download