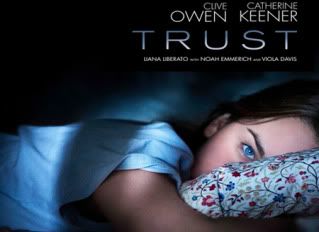 As a drama film, Trust 2011 is very much touching in the way that the film directing producing all the scenes was just well done. Directed by former Friends TV series' star David Schwimmer, this film which is produced by Millenium Entertainment film production company is something good. Even though it is not perfect, at least Trust has something better than any other this early year's movie releases have. Trust 2011 is the full of true drama, good acting, and sophisticated dark atmosphere.
Trust 2011 is so down-to-earth, which means that it does not try to be some too much extravagant but just be realistic. It is like an all-day-frightening-case which has scared many parents in the world in the era of high technology. Annie Cameron (Liana Liberato) is a fourteen year old school girl, a usual young girl with normal family, school sports activity, friends, and such a deep curiousity of a teen age. When it is the time for her birthday, Annie gets a new MacBook laptop which soon she uses to do what we all, and especially young and teenage people, do in this digital era: connecting to the internet, get some online or cyber friends, and then chat. Annie gets this friend named "Charlie", whose pictures seem to be so convincing.
But she knew, or she should have known, that she is wrong when the "boy" acknowledges that he is actually 20, or 25, years old. And afterward, Annie really knows, somehow, that she really really wrong in getting such a friend that the boy named Charlie is actually at least in his 30s. It is a doubtful thing whether she is stupid or too much naïve or just wants to get out having a different experience, that she willingly follows the man to a hotel and has sex with him, or more precisely, is being raped. If she really calls it a rape.
The only unfortunate thing about this movie is the execution of the story itself. The willingness of Annie to follow the unknown man whom she knows that he is NOT the correct or the right person is something awkward and weird. More over, her willingness to be raped and admits that she has NOT been raped is also a weird thing. Teenagers are weird, indeed, because they have and are full of uncertain and undecisive things in their immature mind. But this is too much. The script writer and the film director should have been better in doing the story. However, the way Annie's parents (played by Clive Owen and Catherine Keener) react towards this issue is great and so normal, but how the character played by Owen solve the problem is not realistic enough.
And last, all the cast has done great in this movie. Especially those playing the whole family member: Clive Owen, Catherine Keener, and Liana Liberato as Annie. Her total portrayal of Annie is somehow shocking, for she's done that raping scene so "truthfully". But it's always great to see great cast doing such a great job. It is a worth watching movie. Not perfect though, but as one of the recent movie releases this year, Trust 2011 is a good drama film to watch.
Link Here ........
Download